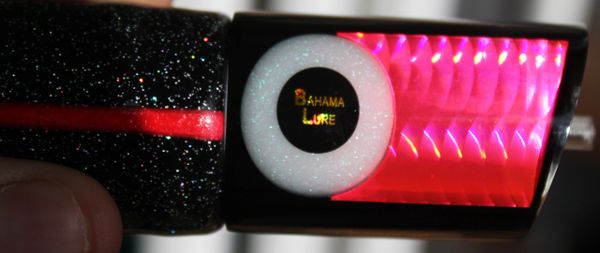 Charon - Pink Black
Custom Made 9" and 12" Charon Tube Plunger Bahama Lure For Reel Hooked.
We have these made for us with Bright Color Flashing Hot Pink Reflector Tape With a Black Top and Bottom.

When this lure is out in the sunlight it really puts off a bright flash of mixed colors
& its Big Eyes Really Stand Out.

This Tube Design has Proven itself to be a really big producer of a variety of pelagic species.

They are Proven to Attract Pelagic Fish of all Species.
This Lure has Plunger Design which Pops and Dives with a long Bubble Trail and has a slight side to side wiggle.
Proven on Blue/Black Marlin, Yellowfin and BigEye Tuna, and Mahi Mahi

and has caught More than its fair share of Ono or Wahoo on the 1,000 Fathom Ledge.
If your Planning on Running this in the Ono Lane, Wire Leader is Recommended.
Excellent off the Long, and short Rigger, and we love the 9" on the shotgun, its Proven very Effective.
Multiple Rigging Options are Available.
Recommend the 9/0 Hook for the 9" and the 10/0 Hook for the 12"
All Rigged Lures will have 15' of Lindgren Pitman 300 lb. Leader on the 9" and 400lb. for the 12" Lures.

We use Our Proven Sea Demon 3x Strong Stainless Steel Hooks. 4x Strong Hooks Available upon request.

Custom Length and lb. Test Available, just call me with your specific needs. 808-345-5415