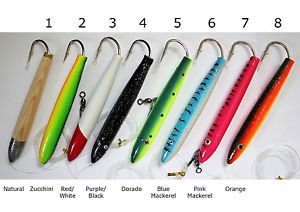 Rigged Cedar Plug Lures
Rigged Weighted Cedar Plug Lures

Whats The # 1 Tuna Lure ?

That's Right, The Cedar Plug.

This Lure catches all kinds of fish,

But out here in Hawaii its deadly on Mahi Mahi, Ono (Wahoo) and Ahi (Yellowfin Tuna).
These Lures have a heavy nose weight to keep the lure running upright, and gives it the side to side darting action, which proves unresistable
to a variety of pelagic fishes.

I have to buy new cedar plug lures myself at the start of every season,

due to the fact they get bit so often, eventually the lure gets chewed up.
check out the last few pics, this is what your cedar plugs will soon look like.
Get yours now before the season starts and improve your catch rate !