C-MAP 4D Local Hawaiian Islands Chart Card
C-MAP 4D Local Hawaiian Islands Chart Card
Developed by Jeppesen for your favorite style of boating, C-MAP 4D represents the latest evolution of electronic charting technology. C-MAP 4D combines our award-winning vector chart data with Dynamic Raster Charts for stunningly detailed 3D views and satellite imagery. Our innovative features include unique content and exclusive Value Added Data to enhance each cruising, fishing or sailing experience. C-MAP 4D truly is your all-in-one charting solution, compatible with select chartplotters from Furuno, Standard Horizon and Humminbird.
Compatibility:
Raymarine:
- Dragonfly 4PRO, Dragonfly 5M/5PRO, Dragonfly 6, Dragonfly 7 (Minimum Software Version 11.41)
- A Series (a65/a67/a68/a75/a77/a78/a95/a97/a98/a125/a127/a128) Minimum Software Version 13.37
- C Series (c95/c97, c125/c127) Minimum Software Version 13.37
- E Series (e7/e7D, e95/e97, e125/e127, e165) Minimum Software Version 13.37
- ES Series (eS75, eS78, eS97, eS98, eS127, eS128 ) Minimum Software Version 13.37
- GS Series (gS95, gS125, gS165, gS195) Minimum Software Version 13.37
Furuno:
- GP-1670, GP-1670F, GP-1870, GP1871, GP1971
Standard Horizon:
- CPN700I, CPN1010I

3 Dimensional Chart View a new perspective. The world has three dimensions.The world has three dimensions. When you add the 4th dimension of time – meaning consistent, periodic updates – you combine the most detailed 3D height and depth worldwide database with a continuous update process to give you a personalized navigation experience with up-to-date data for safe navigation.
 
Satellite Images with
2D and 3D Overlay.
See the real world on your screen.
C-MAP 4D includes a navigational perspective with high-resolution coastal imagery overlaid on the most accurate and up-to-date vector data, plus thousands of extraordinary photos for the most popular marinas and areas of interest.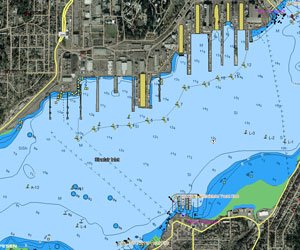 Digital Raster Charts with
2D and 3D Overlay
Innovate tradition.With raster charts, you have an additional reference source for navigational awareness. Get "at-a-glance" information using the nautical paper charts overlaid on the multi-dimensional shaded relief to have a new visual experience.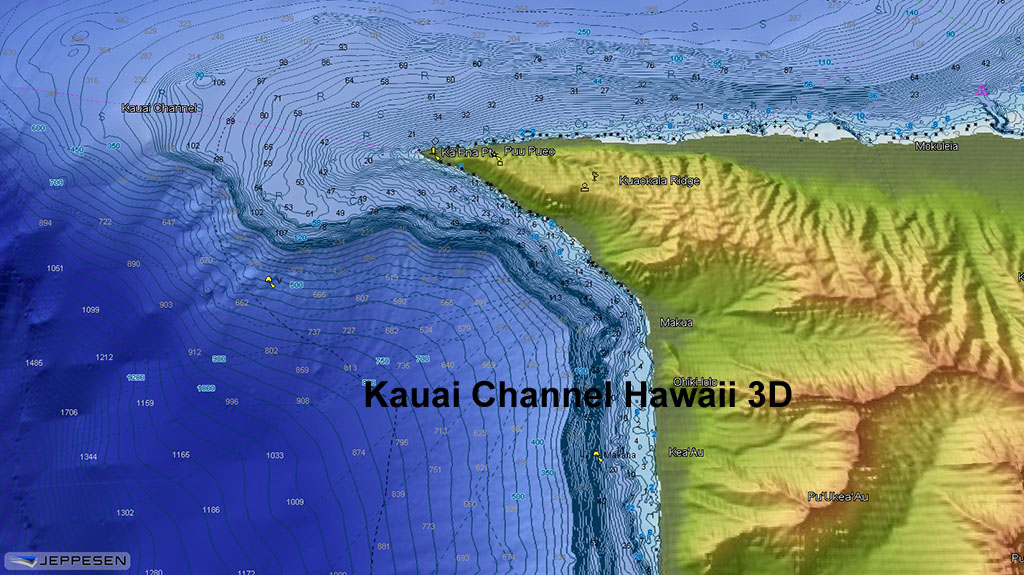 Guardian Alarm - An extra layer of safety. When activated, Guardian Alarm performs an automatic forward-scanning check for obstacles. Use the feature as an added backup to alert you should you head toward a potentially harmful object.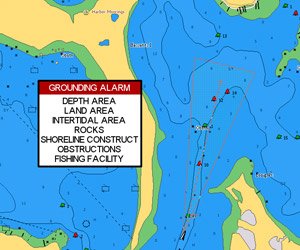 Easy Routing - Automatically create a route. Enter start and end points along with specific boat parameters and automatically receive waypoints of the shortest route; highlights potential hazards and displays varying levels of alerts for each segment of the route, allows you to manually adjust the route.