Bahama Lure 15" Bianca 60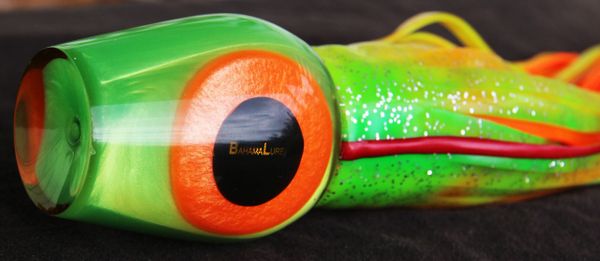 Bahama Lure 15" Bianca 60
BahamaLures 15" Bianca 60 Cup Face Lure with Big Red Eyes.
Comes double skirted as shown, w/ 2 New, O.L.C. Thick, No Eye Skirts
with a Green/Yellow/Red/Gold w/Red Stripe with silver flakes over a bright Orange Inner
The Cup Face and Rounded Taper give this Head a nice enticing side to side wiggle as it swims

and the cup face holds the lure in the water, it wont break free and skip on the surface.

We have caught lot of fish on this lure
Ahi, Mahi, Ono, Rainbow Runner, spearfish, and Blue and Black Marlin
Proven performer
Available as shown or rigged for $20

Rigging includes 15' of 400lb. Lindgren Pitman Mono Leader
All connections Double crimped
Available in single 12/0 stiff rig w/5 layer glue filled heat shrink build up
or 180* Double 11/0 stiff rig w/5 layer glue filled heat shrink build up
and free swinging Trailer Hook w/650lb. Cable