9. Back 2 Back Stiff Rigged Double Hook Sets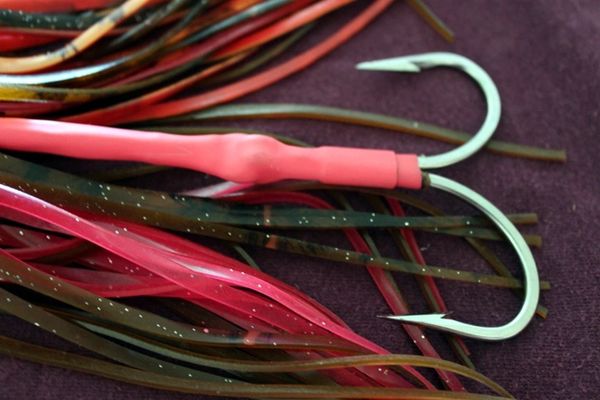 9. Back 2 Back Stiff Rigged Double Hook Sets
Exclusive to Reel Hooked Hawaii is our Stiff Rigged Back 2 Back Double Hook sets.
We came up with this unique rigging technique back in 2012 as a result of giant Yellowfin Tuna Bending Hooks on Green Stick Rigs.
We use the 4x Sword Hook Rigged back 2 back, and havent lost a Tuna or Bent a hook since.

Used by Many Local Commercial Fisherman Running Greensticks.

and it has enjoyed great success in a variety of Lures.
I also Rig all my Ono and Marlin Lures the same way with Excellent results.
All Hooksets are made stiff by 3 Layers of Glue Filled Shrink Wrap tubing.
We only use Glue filled shrink wrap in all our hook sets because the Glue completely seals both ends which keeps your cable/crimps and hooks from rusting.
Rigging Options:

Available in 2 Styles of Hooks:
The 4X Strong Knife Point Stainless Steel Trolling Hook
and the 3X Strong Sea Demon Stainless Steel Trolling Hook

Available in sizes 8/0 thru 12/0
Leader: We use Lindgren Pitman Commercial Leader
One of, if not the best Leader you can buy.

Comes with your choice of 15' of 200, 300 or 400lb. Test

Can be Built In, so Mono Line thru hooks is protected from toothy fish
all the way back to the crimps.