Avet Pro EXW 50W 2 Speed Reel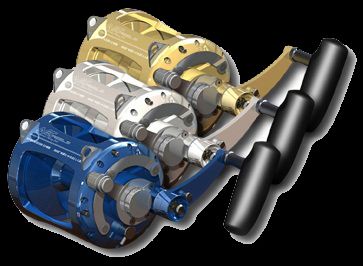 Avet Pro EXW 50W 2 Speed Reel
Avet PRO EXW 50W Fishing Reel

When you need drag pressures of 50 plus pounds and lots of line , the Avet 50's are your reel of choice. Lighter than competing brands, the Avet Pro EXW 50 are superior in every aspect.
Reliable dual dry carbon fiber drag washers, titanium drag rotor, 8 Sealed stainless ball bearings, all 304 or 316 stainless steel internal components and an Aircraft/Marine Grade 6061-T aluminum body. This reel will be out catching fish while the others are in the shop being rebuilt.
The Avet Pro EXW50W quite simply, outclasses the competition
Lever Drag 165 degree Arc

 

2 speed Gear Ratio 3:2-1high , 1:3-1

 low

Massive Dual Drag, Carbon Fiber discs, Titanium Brake Plate

 

8 Abec 5 Stainless Steel 

sealed

 ball bearings

 

Line out Adjustment for live bait presentation

 

50 lbs of drag at strike, 57+ at full

 

Single speed also available 3:2-1 Ratio, same drag system

 

Stocked in Gold Silver, Blue, Purple, or Black

 

Easy push button "on the fly" shiftin

2300 yds 80lb. braid

2060 yds 100lb. Braid

1400 yds 130lb. braid

830 yds 60lb. mono

610 yds 80lb. mono

490yds 100 lb. mono

Spooling Service includes price of the line and for spooling it onto your reel.

EX: On 50w Reel using 200lb. braid - 1,000 Yards of line $160 and $40 for spooling.