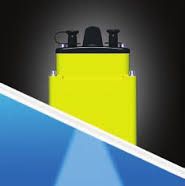 M260 Shoot Thru Hull
The performance of Airmar's "1 kW, 260 family" of transducers is legendary.
The combination of power and sensitivity has made this the high-performing transducer of choice with conventional fishfinders.
Operating at 50 and 200 kHz, the narrow, 6° beam at 200 kHz provides excellent target resolution and crisp images of fish holding tight to wrecks and reefs.
The 50 kHz is excellent at deep-water detection, and its wide 19° beam yields broad coverage under the boat.
The transducer is installed in the included tank which is cut to the boat's deadrise angle and affixed inside the hull.
When the transducer is placed inside the tank, it is properly oriented for optimal performance.
The M260 is a popular choice for customers not wanting to drill a hole in their hull and for trailered or multi-hulled boats.
Black Box - 8 Pin Depth and Temp, Fits FF520/525, CPF180i, CPF190i, CPF300i, CPF390i, Si-Tex ES502
Furuno 10 Pin - Fits All Newer Furuno Units with 10 Pin Plug (582, 585, 587, 588, 600L, 627, 628, gp1670f, gp1870f)
Furuno 8 Pin - Older Furuno Units with 8 Pin Plug (FCV-667 Ect.)
Garmin 6 Pin - Depth and Temp, Fits Garmin 6 Pin Units 500w RMS or Higher
Garmin 8 Pin - Depth and Temp, Fits all Garmin 50/200 kHz Units w/8 Pin
Lowrance/Simrad - 7 Pin Connector - Depth and Temp, Fits all 50/200 kHz Units w/ Blue Connector
Raymarine - No Connector - Fits DSM400
Raymarine Radar Connector - Fits DSM30/250/300, CP300, CP370
Raymarine 6/9 Pin Connector - Depth and Temp - Fits "A" Series, A50D, A57D, A65D, A70D, DSM25, A65, A67, E7D, C97, E97, C127, E127
Si-Tex - 8 Pin Connector - Speed and Depth - Fits CVS126/128, CVS1410, SVS650/750
Hummingbird # 9 Connector - Depth and Temp - Fits all 800, 900 and 1100 Series Except 967 3d
Hummingbird 14 Pin Connector - Depth and Temp - Fits SM2000, 3000 Series
Hummingbird 18 Pin Connector - Depth and Temp - Fits SM1000, 2000, 3000 Series
Please call to check availability, some models have been going in and out of Back order. 808-345-5415