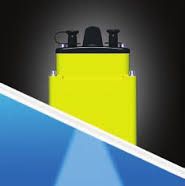 M260 Shoot Thru Hull
Setti                Setting the In-Hull Standard
It's true! Excellent performance can be achieved from an
in-hull mounted transducer. The M260 is designed with a
200 kHz element, which provides performance resulting in
higher-resolution without sacrificing sensitivity. Combined
with a seven-element 50 kHz array, this in-hull has excellent
deep-water detection. Because the M260 has narrow beams
at both frequencies, separation of individual targets and the
ability to distinguish between fish and the bottom makes
finding fish easy.
Al                        Out Fishfinding Performance!
Optimal fishfinder performance no longer requires drilling a hole
in the hull! The M260 is able to transmit and receive through
solid fiberglass, displaying sharp detailed images. Track the
bottom at speeds exceeding 30 knots (34 MPH)! Installation
simply requires adhering the tank to the inside of the vessel,
leaving a clean and smooth hull exterior!
Connection Options:
Black Box - 8 Pin Depth and Temp, Fits FF520/525, CPF180i, CPF190i, CPF300i, CPF390i, Si-Tex ES502
Furuno 10 Pin - Fits All Newer Furuno Units with 10 Pin Plug (582, 585, 587, 588, 600L, 627, 628, gp1670f, gp1870f)
Furuno 8 Pin - Older Furuno Units with 8 Pin Plug (FCV-667 Ect.)
Garmin 6 Pin - Depth and Temp, Fits Garmin 6 Pin Units 500w RMS or Higher
Garmin 8 Pin - Depth and Temp, Fits all Garmin 50/200 kHz Units w/8 Pin
Lowrance/Simrad - 7 Pin Connector - Depth and Temp, Fits all 50/200 kHz Units w/ Blue Connector
Raymarine - No Connector - Fits DSM400
Raymarine Radar Connector - Fits DSM30/250/300, CP300, CP370
Raymarine 6/9 Pin Connector - Depth and Temp - Fits "A" Series, A50D, A57D, A65D, A70D, DSM25, A65, A67, E7D, C97, E97, C127, E127
Si-Tex - 8 Pin Connector - Speed and Depth - Fits CVS126/128, CVS1410, SVS650/750
Hummingbird # 9 Connector - Depth and Temp - Fits all 800, 900 and 1100 Series Except 967 3d
Hummingbird 14 Pin Connector - Depth and Temp - Fits SM2000, 3000 Series
Hummingbird 18 Pin Connector - Depth and Temp - Fits SM1000, 2000, 3000 Series