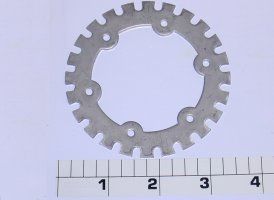 81-80S Ratchet
Penn International Pert # 81-80s - Ratchet

On 80 and 80W reels:
Special Notes about ratchets - Please match up existing ratchet using the photo! On older 80 and 80W reels predating 1989 the spool design was different. For newer reels using spool 29L-80S use ratchet #81-80S (seen above). If the spool number is 29L-80 (older reels), use ratchet #81-80.

On 80T, 80TW, 80S, 80ST, 80STW, 80SW, 80VSW: This 81-80S is the standard ratchet.
Fits: 80, 80S, 80SW, 80ST, 80STW, 80T, 80TW, 80VISW, 80VISWS, 80VSW, 80W