2. Blue DragonHide Bullet w/Gold Leaf Eyes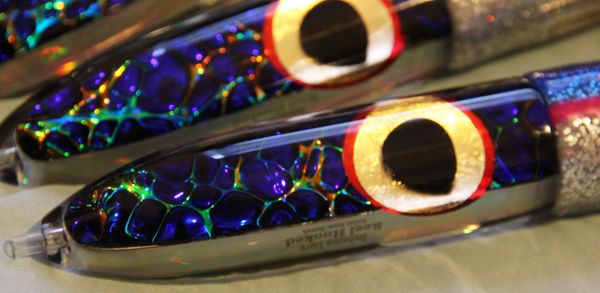 2. Blue DragonHide Bullet w/Gold Leaf Eyes
Custom Made Bahama Lure/Reel Hooked Lures Bullet with Blue DragonHide Inserts With Real Gold Leaf Eyes with Flashing Red or Green Eye Rings.  9" & 12" sizes available,
All Bahama Lures are Keel Weighted and Balanced to run Upright

This Heavy Bullet Design stays down and tracks straight, getting more solid hookups 

This Lure Attract Pelagic Fish of all Species. But i use it Primarily for Ono or Wahoo and Tuna

Proven on Blue/Black Marlin, Yellowfin, BigEye and other Tuna, and big Mahi Mahi

Balanced to run upright at up to 16 knots. i troll these between 8 and 12 knots

9" is Excellent off the Long, and short Rigger, and the 12" is good on the short Corners

its Proven very Effective on the shotgun

trimmed down a bit to make it about 7"

Multiple Rigging Options are Available.
Recommend the 10/0 Hook for the 9" and the 11/0 Hook for the 12"
All Rigged Lures will have 15' of Lindgren Pitman 300 lb. Leader on the 9" and 400lb. for the 12" Lures.

We use Our Proven Sea Demon 3x Strong Stainless Steel Hooks. 4x Strong Hooks Available upon request.

Custom Length and lb. Test Available, just call me with your specific needs. 808-345-5415