1kw Mix & Match Cable with Garmin 6 Pin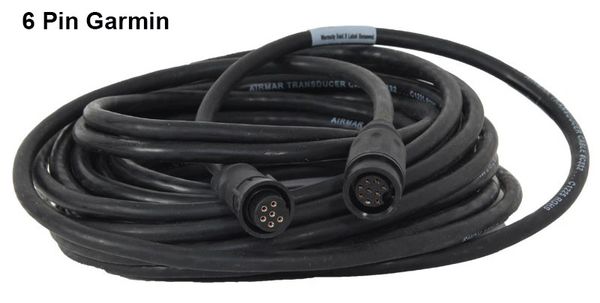 1kw Mix & Match Cable with Garmin 6 Pin
MM1-DST-6G - Garmin 6-Pin Depth/Speed/Temp
Airmar 1kw Mix and Match Cable with Garmin 6 Pin Connector. 8 meters Long (26.25')
These cables are 8 meter (26.25 ft) Mix and Match (MM) cables for use with Airmar 1kW Mix and Match transducers. Many Airmar 1kW transducers are now made as a generic MM version and sold with an adapter cable for connection to a specific brand of sounder or fishfinder.
These cables enable you to continue using an installed transducer when switching electronics brands. Just replace the old MM cable with a new one for the new equipment, leaving the transducer undisturbed.
One end of a 1kW MM cable has a 9-pin Airmar connector that plugs into the short cable pigtail attached to the transducer. The other end has a brand-specific connector for a sounder or fishfinder.
Note : these cables are for conventional 50/200 kHz fishfinder transducers and cannot be used with the new CHIRP Mix and Match models.
Available Cables
MM1-DO-6G : Garmin 6-Pin Depth Only
MM1-DST-6G : Garmin 6-Pin Depth/Speed/Temp
MM1-DST-6N : Navman/Northstar 6-Pin, Simrad NX
MM1-DST-7 : Simrad 32/33/34
MM1-DST-8F : older Furuno 8-Pin
MM1-DST-8G : Garmin blue 8-Pin
MM1-DST-8S : SiTex 8-Pin
MM1-DT-9N : Navico xSonic 9-Pin Depth/Temp
MM1-DST-10F : Furuno 10-Pin
MM1-DST-18HB : Humminbird 18-Pin
MM1-DST-BB : Standard Horizon 8-Pin
MM1-DST-BL : Lowrance/Simrad blue 7-Pin (Lowrance HDS, Simrad NSE/NSS)
MM1-DST-RAY : Raymarine DSM300
MM1-DST-RAYA : Raymarine 6/9-Pin