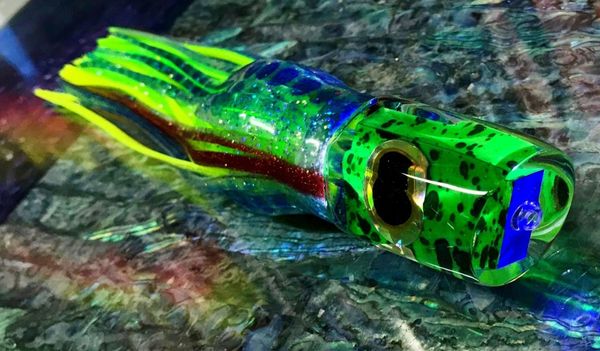 10" Mahi Slant Plunger
Mahi Colored Slant Head Plunger
Weighted Abalone Insert - 10", 6oz
Skirted with Two OC30 Premium O.L.C. Skirts
Head Shape:  Slant Plunger
Head Size: 1.400" Length X 1.900" O.D.
Skirted Size: 10 inches
Position: Long Rigger and Shotgun
Hard Polyurethane Keel Weighted heads.  
This Lure head is Reusable just tie on new replacement skirts Size OC30.
This Lure Catches Tuna, Mahi, Ono or Wahoo and we've caught a few striped and blue marlin on it also.
not bad for first season running this lure. We Troll this around 7-9 knots

If you need help just call or send me a message.