5. 10" Mahi Slant Nose Plunger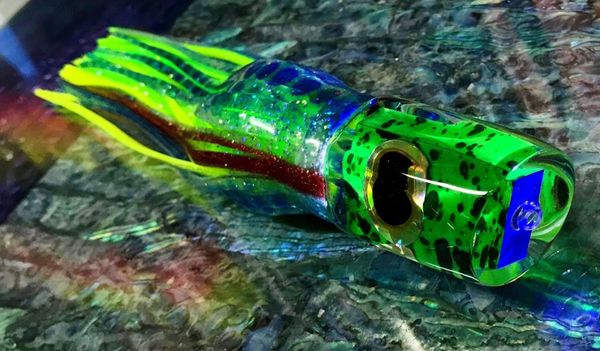 5. 10" Mahi Slant Nose Plunger
Custom Made Mahi Colored Slant Head Plunger 
Weighted Abalone Insert - 10", 6oz
Skirted with Two OC30 Premium O.L.C. Skirts
Head Shape:  Slant Plunger
Head Size: 1.400" Length X 1.900" O.D.
Skirted Size: 10 inches
Position: Long Rigger and Shotgun
Hard Polyurethane Keel Weighted heads.  
This Lure head uses replacement skirts Size OC30.
This Lure Catches Tuna, Mahi, Ono or Wahoo, Rainbow Runner, Striped and Blue Marlin, Spearfish
& the Occasional Sailfish.

We Troll this around 7-9 knots

If you need help just call or send me a message.
Available double skirted as shown or Fully rigged ready to drop in the water.
Our single 9/0 Stiff Rig will include 15' of 300lb. Lindgren Pitman Mono Leader
9/0 Stainless Steel 3x Sea Demon Open Gape Hooks
with Leader protector around Hook crimp

and 5 Layers of Glue filled heat shrink are built up over the leader to protect it from Toothy Fish
our build up typically can withstand dozens of Ono strikes before having to be cut back.
Also available in our Unique Back2Back 9/0 5 Layer Stiff Rig -
especially Deadly On Ono or Wahoo and Yellowfin/BigeyeTuna
Since these lures have the HookLocks Epoxied onto the back of the lure
it allows you to orient the Hooks in a vertical position
When ono bite they typically get one hook in the lower and one in the upper jaw
if tension if kept on the line while retrieving, they will not escape.